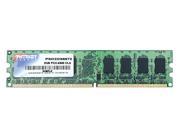 The HP EX470/475 MediaSmart Server is a great little box. But if you're a power user and plan on adding any applications and/or services to your machine, the factory installed 512 MB of RAM just won't cut it. HP claims that the RAM is not upgradable, but that just isn't so. The HP EX470/475 contains a single 512 MB stick of PC2 - 5300 667MHz memory.
I recently upgraded my machine by replacing the 512 MB memory with the single 2GB module. I spent about $43 after rebate for this Patriot 2GB 240-Pin DDR2 SDRAM DDR2 667 (PC2 5300)
that I bought from NewEgg. But if money is an issue, you can opt for 1GB of RAM for around $22.
*** NOTE *** Prices have come down a bit since I wrote this article. The Patriot 2GB memory is now just $18 and the G.SKILL 2GB module (which is what I'm now recommending) goes for just $22.
*** ALSO *** Upgrading the memory in the HP MediaSmart Server now does NOT void your warranty. This in a statement from HP:
"Based on customer feedback HP is now allowing owners of MediaSmart Server's to upgrade the memory without voiding the warranty after research showed that some customers were installing multiple add-ins and/or additional software, which could lead to a need for additional memory."
Before you begin, I must warn you that this upgrade is not for the faint of heart. You are literally going to remove every component of the machine just to get to the memory. Doing so *may* void your warranty so proceed at your own risk. I am not responsible anything that may happen to your precious little Home Server.
Step by Step Instructions
Still with me? Good. Let's begin (click on an image to enlarge):
Some have reported (read the comments) that they have come close to stripping the 2 small screws discussed in step 10. Before you begin, do yourself a favor and run out and get a #00 Phillips head screwdriver. I paid $2.49
for this one
at my local hardware store.
Power down the unit and find a nice flat, clean work surface. Give yourself enough room where you can lay out the parts as you remove them. (You'll thank me when is's time to put it all back together.)
Open the front panel door.
Unlock the system drive using a penny.
Remove all of the drives. Be sure to note the order in which you remove them as you will need to replace them *exactly* in the same slots as you removed them. Bad things will happen if you mix them up. The idiot-proof method is to remove them from the bottom to the top, creating a stack as you go. They will be in the same position as the slots where they should go back.
Remove the top by sliding the silver plate forward. This might take a little effort and you will need two hands, one to pull the plate forward, the other to hold the case still. It will seem to unlock or pop out after sliding forward about 1 cm and then it is easily removable. Put top aside.
Remove the 2 fan cables from the drive back plane. Keep track of which cable goes into which port. I use a black Sharpie to mark one of the cables and it's corresponding port, along the edge of the back plane. I went overkill and marked the second cable and it's port in a second color (red). When it comes time to back this sucker back together, it will be a simple game of color matching.
Remove the cable that controls the drive LEDs. I found it comes out easily with gently rocking it side to side.
Turn the two blue plastic levers a quarter turn.
Stick your hand inside of the drive bay and lift up the drive back plane, removing it from the motherboard. Simply stick your fingers into a couple of the holes, pushing up, and use your other hand to pull up and out. Put back plane aside.
Using a small #00 Phillips head screwdriver, remove the 2 black screws on the right side of the front grate. Put screws aside. The front grate will probably spring open a little as soon as you remove second screw.
Gently pull out the front grate and you'll see it is tethered by one cable (the front IO LED board cable). Unplug this cable and put front grate aside.
Use a small Phillips head screwdriver to remove the 2 silver screws that hold the motherboard in place.
Remove the motherboard by sliding it forward. If you encounter some resistance, jiggle gently from side to side as you pull. I had a little trouble initially and found it helpful to push from the right side while pulling. Put the case aside and place your motherboard on your work surface.
Replace the existing memory with your new stick. Be sure that it is well seated. It's probably a good idea to hang on to the old memory. If you even have to return the unit for service, you may want to replace the original equipment.
Put your machine back together by reversing steps 13 - 1. Remember, when you get to step 4, put your hard drives back in in reverse order - the top drive in the stack goes into the top slot and so on to the bottom slot.
Open up the Windows Home Server Console by double clicking on the tray icon. After you log in, click Settings, the Resources. If all went as planned, it should report 1.97GB of RAM as shown here.
You should also change you Virtual Memory page file size. Read here for instructions.
I'd like to thank my fiancee and hand model Alyssa for her help with this article.
Next Steps
Now that you've upgraded your RAM, why not go "whole hog" and upgrade the processor! Read about how you can get a 40% increase in processor speed for around $50. A detailed step-by-step guide can be found here.